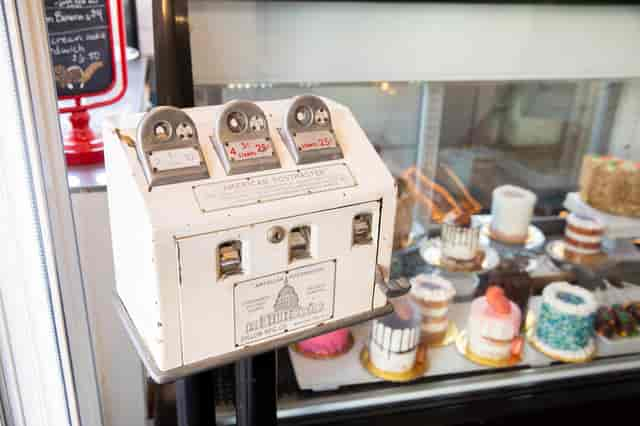 History
History of the Drug Store
Watson Drug and Soda Fountain; a product of the Golden Age of American History, somewhere in time when Main Street, U.S.A. was the center of life for every American City. This was the era of the Gay Nineties. The horseless carriage had just been introduced, gold was discovered in the Klondike, rural free postal delivery had been established drives in a surrey were still a way of courting. Dr. John T. Dorrance developed Campbell's condensed soups, which sold for 10 cents. John Kellogg, a physician at the Battle Creek Sanitarium and his brother, Will Keith Kellogg developed wheat flakes (called Gransosa) in 1894, in a attempt to create a more digestible bread. The cereal, a vegetarian diet and water treatments were such a success that people came to the sanitarium from all over. In 1895 Charles W. Post was one of the patients. He took some of Kellogg's ideas and developed Postum, a malt beverage and Grape Nuts. The foundation for a drugstore and soda fountain emerged. Drugs were freely available and abuse was common. Heroin was sold as cough medicine. The American Drugstore began with the introduction of scientific fact into pharmacy and medicine.
Watson's History
Watson Drug Store In 1899, Watson Drug opened as K.E. Watson's, first on Glassell St., then to its present location on Chapman Avenue in Orange, CA. It was around this time in many parts of the United States laws were passed that prohibited the selling of soda water on Sunday. As an alternative on Sunday's, local soda fountains began selling ice cream sodas, minus the soda, which left only the ice cream and syrup. That became the recipe of what we know today as the ice cream sundae. In 1915, Watson's opened a soda fountain, complete with ice cream soda, sundaes, and phosphates. In the ensuing years, American-style "comfort foods" have been added to the menu and has remained the mainstay of Watson's restaurant menu. In 1965, Keller Watson Jr. retired from Watson's and in 1971, an ambitious young pharmacist named Scott Parker took over the business. In his mild, soft-spoken manner, Scott has given his customers and patients that comfortable breath of nostalgia with his individualized service, making sure everyone is taken care to the best of his abilities, offering consultations and advice on prescriptions and always striving to offer medications for the best possible price. From 1971 until 2015 was managed by Scott's son Steve and featured a more 50's style atmosphere. In September 2015 Steve was ready for retirement and sold it to Bill & Laurie Skeffington. They are the owners of Ben's Asphault but food is their passion as well as bringing back historical restaurants for patrons to enjoy for years to come. They will be doing a complete remodel and are bringing back some of it's turn of the century original atmostphere. They also own Rockwell's Bakery in Villa Park and will adding a bakery component where the original Van de Camp's bakery once stood.
original Watson's side view
In The Movies
The inside & outside have been used to film many movies. Notably, the Tom Hanks movie "That Thing You Do" and "The Bench Warmers" used Watson's as a set. There is a long history of movies such as the Barbara Eden film "The Stepford Children", and Burt Reynolds "Gumball Rally". Producers of television commercials have also used the natural ambiance inside Watson's to film spots starring (among others) Don Knotts, Shelly Hack, and Jimmy Smits. Even President George W. Bush has stopped by for one of our famous malts.